CelebriDucks Price Guide – Rubber Duck Collectibles
CELEBRIDUCKS HISTORY, IDENTIFICATION & VALUE GUIDE 2020
Released in January of 2020, this revised third edition is a comprehensive accounting of every CelebriDucks character made. Filled with fun facts including, how they engineer the characters to float, how CelebriDucks are hatched and pictures of the characters throughout the history of the company.
Available on Kindle at Amazon – or visit the authors website to purchase a digital PDF Instant Download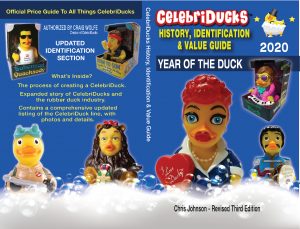 We are proud to present our 2020 Official Authorized-1st. edition of the most comprehensive collection of the CelebriDucks Characters Line. Includes the history of the company.
"The duck consumed me like Richard Dreyfuss was consumed by mashed potato mountains." Craig Wolfe,  founder and creator of CELEBRIDUCKS.
Today, CelebriDucks are collected worldwide. The older retired and limited editions are highly sought after by collectors for their intricacy, quality, craftsmanship, and variety.
In this authorized 2018 first edition, we present the history and comprehensive price guide to the CelebriDucks that have hatched over the years. Many ducks and characters are retired, but there are countless editions still available for those looking to add to their rubber duck, famous personalities, and toy collections.
We hope you enjoy learning about the history of the company and what makes a CelebriDuck so special. The story you are about to read was taken from interview transcripts conducted with, and authorized by, the creator of these amazing characters, Mr. Craig Wolfe.
If you need any assistance to get your copy, please contact us.
Lost in Translation Adult Coloring Book: Funny and thoughtful phrases to make you think. One liners inspired by translating English in to various languages and back again. Click here for book details.
Mysteries & Astrology Coloring Book For Adults – 12 Zodiac Signs, suns, stars & magic: Astrology, zodiac signs and symbols. Mystic coloring designs in  various themes from simple to detailed pages. Click here for book details.
Reb's Ravens Coloring Book For Adults: For the love of Ravens and birds of a feather. Landscapes and portrait pages of various designs. Includes detailed and simple raven themed coloring pages. Raven Coloring Book Details
Eat a Moist Pickle Adult Coloring Book Swear Words, Assorted One-Liner Words and Puns of Fun: Emotional Coloring, Insults with animals, dogs, to bugs … detailed one-sided pages. No graphic images. Click here for Eat a Moist Pickle Adult Coloring Book
The Bone Yard Coloring Book For Adults: Skulls of humans and animals. One Side portrait and landscape pages. Assorted themes. Click Here for the Bone Yard Adult Coloring Book
Sponsored Links:
A true automated online business comes from a high-converting, effective sales funnel that can do all the selling for you while you sleep. genababak.com