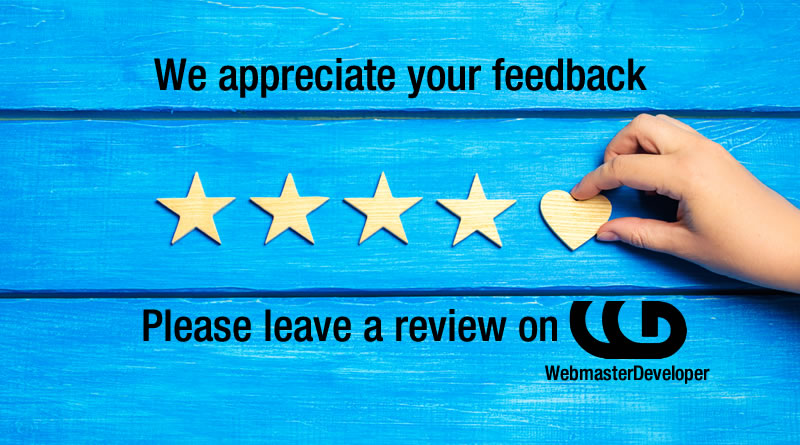 Add your web site services recommendation /review.
We are building our online presence on the web and as part of this, we are looking to clients to share an online testimonial, review or comments. Would you be willing to take an few minutes to provide us a review?
Please leave a review for services provided by WebmasterDeveloper of San Diego.
Reviews appreciated for web design, logo design, web site hosting or any web site support services we have provided. 
Thank you so much for taking the time to provide us feedback. Your comments are sincerely appreciated and very helpful to us.
Chris was wonderfully patient with walking me through unfamiliar website territory.
I was so grateful for Chris Johnson's patience in walking me through my website confusion. I will go to her immediately for more patient help when I need it which is often, Thanks you Chris
Great work for anything website related
WebmasterDeveloper helped me organize a daunting project to condense and set up 21 San Diego websites on their server. They were integral in organizing, setting them up, working on SEO and maintenance of the websites. I had a previous webmaster that never finished the job after a year, but once i gave it to Chris, my sites were set up within a week! When I have any need for website work on my wordpress sites, or search engine optimization or graphic design, all I have to do is call or send an email and it is done. If i need anything website related, optimization or technical, I call them first. They can do most anything and their rates are really affordable.
Wonderful Customer Service and Beautifully created website
I can not begin to thank WebmasterDeveloper and Chris for creating a website for my mother-in-law. My mother-in-law for years has wanted to have a website where she can post her poetry at an affordable price. Chris not only built a beautiful website for her, was quick and is just a phone call away for any WordPress support questions that we had. I am so glad I found her and I highly recommend her.
The Best Partner
We feel very fortunate to have Webmaster Developer as our go to company for all things website in San Diego. We've relied on Chris Johnson, our project coordinator many times over a number of years for problem solving and creativity for our business website. She always takes our wordpress emergency and support calls and gives our company undivided attention.
Thank you Chris and Company for your support throughout the years.
SummitEventsca.com
Response from Website Design San Diego
Thank you for your review Randy. It is a pleasure assisting you with your WordPress website needs. Here is to many more years helping you with your website presence.
Right On and to the Point!
I had questions about a complex website design project and how to go about it. The Lead PM (Chris) at Webmaster Developers was able to quickly grasp the scope, identify high level requirements and provide a path forward. Because of her insight into the work breakdown structure, I am seeing how to proceed in an efficient and economical manner for my new website.
You are undoubtedly the most knowledgeable and ethical professionals
This is not just a review. this is my deep appreciation and admiration for your great work, hosting and website maintenance services. You are undoubtedly the most knowledgeable and ethical professionals in your field. I am extremely happy and grateful to having your help. Dental Implant Centers of San Diego.
Love our logo & website
We had the pleasure of working with WebmasterDeveloper, they helped create our logo and business website. Chris Johnson our project coordinator, is extremely knowledgeable and an expert in the field. We are very pleased with our logo & website and her continued support, they go above and beyond and is very prompt. Thank you for your work.
Efficient, thorough and dependable
Chris is a professional and detailed developer with a keen eye on graphic, her knowledge made the process of our business website pleasant.
She continues to go above and beyond in helping us understand the back end of it so we can update on our own she is very accessible & prompt. Thank you for your expertise and wonderful work we love our logo designed by you and our website.
When searching for a company to over haul our web site, Webmaster Developer's professionalism and depth of knowledge made them the clear choice.
When searching for a company to over haul our web site, Webmaster Developer's professionalism and depth of knowledge made them the clear choice.
They took time to understand our needs and were always available to answer my many questions.
They have proven to be an extremely flexible, responsive
vendor that delivers consistently high levels of service.
I strongly recommend Webmaster Developer.
T. Allen, M.S. Manager
Information Systems & HIPAA Compliance
Psychiatric Centers at San Diego
PsychiatricCenters.com
Unrelenting Support and Professionalism
I am so happy to have found Chris at WebmasterDeveloper to orchestrate a Web site for the Dinosaur Gallery and to take charge of the marketing layouts that are such a telling part of advertising. Chris is a joy to work with, her unrelenting support and professionalism is amazing. Thank you Chris!
THE BEST WEBMASTER I HAVE HAD IN MY 20 YEARS ON THE INTERNET!
I have been working with Chris at WebmasterDeveloper for several years. The company is great. Every time I need something done one call or email and it is done. Her prices are amazingly low and her work is fantastic. Look no further than this company for your web needs. They handle every aspect and farm out nothing. Very, very highly recommended.
For help with SEO this year, I contacted WebmasterDeveloper and within weeks we are on the first page of google. I just did a google search for much needed key words and for the first time in YEARS we have position for both my new websites. Amazing, thank you, thank you thank you!
Response from Website Design San Diego
Thank you Jeff. We are happy that your visibility on the internet has improved since you contacted us this year. Your websites are upgraded and the increase in customers is great. We love to hear that our SEO help with the websites boosted your sales and indexing in the search engines.
And, when I still need them to edit or fix something on my web sites, they respond quickly and are easy on my bank account.
I learned of WebmasterDeveloper.com through an organization I was involved with. Having had two rather disappointing webmasters in the past, I was hesitant to switch again only to be let down again. Finally, I was desperate enough to switch—and promptly wished I had done it sooner.
The staff at WebmasterDeveloper.com are everything I had hoped for: knowledgeable, affordable, quick, and PATIENT! Perhaps most importantly, they helped me know that they had everything under control and that I no longer needed to worry about my web site. They even made me laugh when I was losing my sense of humor.
They took my design ideas and gave me suggestions for improvements. They walked me through each decision, brainstormed with me when appropriate, and created a finished WordPress site that was aesthetically and functionally better than I had originally designed. Then they patiently taught me how to update the site myself. And, when I still need them to edit or fix something, they respond quickly and are easy on my bank account.
Thank you WebmasterDeveloper.com!
S. Hatcher – Owner
Connections Counseling Center
Just leave your web site to Chris
Just leave it to Chris, the project coordinator.
You couldn't be in better hands and she is a wonderful and funny person to boot. Chris made a rather intimidating process to me into a really enjoyable exercise. i couldn't believe how quickly my page was created before my eyes and how effective they made it.
H. Markey
The above recommendation was taken from our Facebook reviews section and brought here to live.
ONE OF THE BEST WEBSITE COMPANIES IN THE BUSINESS!
I cannot say enough good things about WebmasterDeveloper of San Diego. Chris is just amazing. She has made a tremendous difference in our business and is an absolute joy to work with. I cannot recommend them highly enough. They handle 100% of our website and marketing needs and I cannot imagine ever working with anyone else!

Highly recommended
Located in San Diego, California, I have been a customer of webmaster developer for over five years and I am very pleased with their quality and their customer service. I have recommended them to many of my friends and everyone is very happy for any website needs they have. They are very reliable and have absolutely helped me grow my online business, and I thank them.
k.taboh -San Diego
Response from Website Design San Diego
It is a pleasure working with you and your websites. Thank you for the clients you have sent for website design, logo design, maintenance and seo needs. You call us for everything needed to maintain your websites and it is a sincere pleasure working with customers that take an active part in their online business to help us help you.